Vol. 24 (September 17, 2021)
Official YouTube Channel ★
Here
★
Announcement from District Director
Humorous Speech Contest and DCM
Dear fellow members,
Thank you very much for your continuous support as always as a member or an officer. Now that, about two and a half months have passed in this term. Hoping that you are doing well.
We will hold the District Council Meeting (DCM) on September 26th.
DCM hold twice a year in autumn and spring. They are to confirm and share the District76 policies based on the District mission; sharing the future plans, budget decision, etc.
Members of District Council consist of Club President, VPE, and DEC members (Area Directors, Division Directors, District Administrative Manager, District Finance Manager, PRM, CGD, PQD, IPDD, and DD).
I imagine not a few members are interested in having the "Humorous Speech Contest" at DCM.
The Humorous Speech Contest is part of the official educational program provided by Toastmasters International, alongside the traditional International Speech Contests and Japanese Speech Contests. This Humorous Speech Contest is an educational opportunity that even the new members could participate and have the possibility to win. This District event will hold only this term, aiming to "Revitalize the Club".
We will share the details as possible with you regarding this contest's educational values and purposes at the meeting. In addition, Program Quality Director (PQD) Daisuke Kishi will share the overview of Annual Conference and the Contests.
We, Division Directors and Senior Officers have formed the Contest Preparatory Committee and had been considering if we could hold the Humorous Speech Contest for 2 months. We have heard the concerns about the Contest operation by Club Presidents, so we are currently considering and working on making the measures to support Clubs and Areas. These measures are planning and conducted by PQD Kishi, the director in charge, will also share with you this point at DCM.
Announcement from Program Quality Director
Club Energizing Program and COT#2
Two and a half months have passed since the new year of Toastmasters began. I think it was a great opportunity for each club officer to participate in the COT (Club Officer Training) to deepen your understanding of Toastmasters and to think about the club success plan for this year.
As stated in the PQD plan at the beginning of this term, "Club Energize" is an important keyword, and the following two missions will be tried to achieve this plan.
Club Energizing Program
Enhancement of Club Officer Training (COT) # 2
1. Club Energizing Program
We have prepared a "Club Energizing Program" in which not only club officers but also members themselves are actively involved in regular meetings and contests.
We have three awards: "Individual awards", "Advanced awards", and "Club awards".
* Detailed contents and distribution time will be announced on the District website.
Overview of Club Energizing Program
Each course has a purpose and contains a lot of missions that anyone can achieve immediately, please try it first!
It does not return to the CL (Competent Leader) Manual, which was the old program before Pathways, but these days the roles of regular meeting and helpers of contests is often assigned by the club president or VPE after the CL disappears.
We would like you to use this as a tool for the role assignments in regular meetings and the helpers assignments in contests.
In addition, visits and support to other clubs are also included in the program as one of the aims. We hope that you will take this opportunity to visit a club other than your own to experience the atmosphere, take on the necessary roles and contribute to the club.
The period is 10 months from July 1st 2021 to the end of April 2022.
>Please fill the achievement date and the relevant person's signature on the designated form reflecting it from July 1st 2021 and submit it via Area Director. We would like to give you Toastmasters related goods when you achieve each award, so please join us!
2. Enhancement of Club Officer Training (COT) #2
COT#1 was held by each division for the purpose of team building, and COT#2 will adopt the TLI (*1) format and will be held throughout the district.
(*1: TLI: Toastmasters Leadership Institute)
The educational program conducted at COT was prepared for each division so far, but we will organize the duplicated content and conduct the COT#2 beyond the divisions considering additional contents.
Also, the participants are not limited to club officers, all members belonging to the District can participate in each session depending on the contents (*2).
(*2: Some training content is open only to club officers)
It is a little different from the COT format that we have been doing so far, but we appreciate your cooperation.
The specific content of each Session will be discussed with the Division Directors. We will announce later.
New project of Pathways
Finally, more than three years have passed since the release of Pathways. If you have any questions, please ask your mentor, club president, and VPE.
If you have any further questions, please contact the Area Director or Division Director.
In addition, Toastmasters International has notified us that the following two projects will be newly added for Pathway Level-1.
L1-3: Writing a Speech with Purpose
L1-4: Introduction to Vocal Variety and Body Language
Current contents of "Researching and Presenting," will be moved to an elective project in Pathways Level 3.These changes will be completed before the end of this year. For more updates, will be announced by toastmasters international in the Letter officially.
Announcement from Club Growth Director
Let's Welcome the First New Club This Year!
I would like to introduce our first new club in this Toastmasters year:
SMBC Group Toastmasters is a corporate club chartered on July 30th under Division C Area 33. They have about 15 members participating in each meeting and provide all participants with the opportunity to speak by running 4 Table Topics Sessions simultaneously using Zoom breakout rooms. Let's give a warm welcome to our newest friends.
Like last year, the corporate club extension team is continuing its enthusiastic support to many clubs this year. I would like to express my sincere gratitude to the team members; TM Ichiro Naito (Chair), TM Toru Maruyama, TM Nobuyuki Osugi and TM Tomoka (Moka) Ueno for their dedication.
Membership Renewal (Confirm Club's Completion Status)
Has your club completed membership renewal? Club Officers can confirm the process status on the web page below. (Club listed in alphabetical order)
October Dues Renewal Status – District 76
The descriptions of incomplete status
**Renewals not here** = The club has not started the process.
Low – Minimum requirement not yet met = Paid member count is fewer than eight.
Ineligible – Minimum requirement not yet met = Paid member count does not include three renewing members.
Please be careful as the clubs with "Low" or "Ineligible" status are not eligible to send the contestants to speech contests. They are also not able to vote at district business meetings.
If your club needs assistance with membership, please consult with your Area Director.
Fellow Toastmasters, please be encouraged to participate in the "Club Energizing Program" introduced in PQD Kishi's section. The details will be shared on the District homepage shortly. The District Trio this year believes that supporting the club members to have fun and actively participate in the club and the district activities will lead to enhancing the club membership.
Announcement from Public Relations Manager
Introduction of "Toastmasters Stories"
As an initiative of the PR team this term, we are working on a project called "Toastmasters Stories".
Each member should have a story in relation to Toastmasters. These are interview-style videos that tells you about it in about 60 seconds.
Why did you join Toastmasters?
What changes have you noticed in yourself?
Please give a message to the viewers.
We ask them to give us a brief summary of the answers to these questions. Here, we would like to introduce two wonderful stories.
1. Yuna Nagato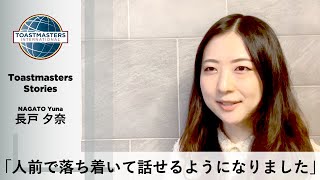 Toastmasters Stories- Yuna Nagato
2. Hideyuki Ishii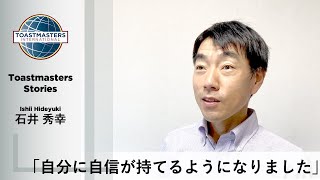 Toastmasters Stories- Hideyuki Ishii
The purpose of the videos is the following three:
1. Invite people who do not know Toastmasters to be interested in Toastmasters.
→ We will spread them on social media and blogs.
2. Have people who are already members reaffirm the value of Toastmasters.
→ We hope you can feel again that "Toastmasters is worth it"
3. Use for clubs PR
→ Uploading to your club site is one way to use them.
[Recruiting performers! !! ]
If you would like to appear, please fill out the form below. The PR team will contact you in detail.
Announcement from Global Liaison Team
Global Café "Leadership, You have the power!"
Guest Speaker
District 38, U.S. 🇺🇸
President, Doylestown Toastmasters, VPE, Harleysville Toastmasters
Guest Speaker
District 51, Malaysia 🇲🇾
Connaught Toastmasters
---
Registration: https://tmcgl-oct.peatix.com
Date & Time: Sunday, 3 October 2021, JST 19:00 – 21:00 (GMT+9)
Online: by Zoom
Language: English
Fee: Free of charge
Invited participants: Toastmasters and Non-Toastmasters are welcome!
Three Big Features
Three inspiration talks by Toastmasters from District38 (the US), District51 (Malaysia) and District 76 (Japan)
YOU and every participant will express the thoughts in group discussions
You will meet friends from all over the world
You will have the following three inspiration talks
#1 Yuki Barano, from Japan, Shin-Osaka Leaders TMC,
Theme: Leadership belongs to us all
#2 Rose Hanh Yuan, from the U.S., President, Doylestown TMC, VPE Harleysville TMC,
Theme: Diversity in Leadership
#3 TM Justin Ng, from Malaysia, Connaught TMC,
Theme: Next Generation Leadership
▼ Registration
Please register by 18:00 JST (GMT +9) Saturday, 2 October.
We will send you the URL to join the meeting and other information upon registration.
▼ Facebook
▼ Organized by
Global Liaison Team of Toastmasters Club Japan (District 76)
https://globalliaison-toastmasters.jimdosite.com/about-us/
▼ Inquiries
Global Liaison Team, District 76, Japan,
Project Leader, Yuki Barano Email:tmcglteam@gmail.com
For more information:

We look forward to meeting you!
Yoshiko KURISAKI, Global Liaison Team Leader
(From Editor)
The next volume of The District 76 Times will be around October 15, 2021.
Hirohiko Kashiwagi, 2021-2022 District 76 Administration Manager