Vol. 16 (April 5, 2021)
Official YouTube Channel ★
Here
★
Announcement from District Director
Featured in NHK's Contemporary Business English Magazine
An NHK's Contemporary Business English magazine "杉田敏の現代ビジネス英語" in the Spring edition featured me as a representative for District 76, which discusses how Toastmasters provides people with a practical environment to learn English business presentation and persuasion skills in a friendly atmosphere.
The magazine, authored by Satoshi Sugita who is the long-running presenter of the NHK Radio English Course, is published by NHK Publications Inc..
—–The article is HERE.
Mr. Satoshi Sugita:
Announcement from Program Quality Director
Greetings
This month we are having many Division Contests and Toastmasters 2020-2021 will finish in June. Before that, we will have the Annual Conference from 16th through 23rd May.
Looking forward to seeing all of you in the event!
Online Speech Contest
Information related to the speech contest is on D76 Website mainly in Japanese, and you can download the English files on Toastmasters International Website directly: Speech Contests (Toastmasters International Website)
| | | |
| --- | --- | --- |
| Division | Date | Registration |
| Division A | 2021/ 4/18 (Sun) 13:00-17:15 | – |
| Division B | 2021/ 4/25 (Sun) | – |
| Division C | 2021/ 4/18(Sun) (13:00-15:00(J) 15:15-17:15(E)) | – |
| Division F | 2021/ 4/18 (Sun) 13:00-17:00 | Form |
| Division G | 2021/ 4/18 (Sun) (12:40-14:30(J) 14:40-16:30 (E)) | Form |
| Division J | 2021/ 4/18 (Sun) | – |
Educational Awards
Relaxed Requirement for Excellent Quality Club Award
We are extending the deadline of "Criteria 2/3" for Excellent Quality Club Award.
(Criteria 1/3) Submit "Moments of Truth" (below) by 31st Dec.
(Criteria 2/3) Achieve President Distinguished Club
(Criteria 3/3) The remaining 5 clubs will be selected based on "First Come, first served"
Excellent Quality Club Award Achievements
Congratulations for achieving the award!
New Club Officers Networking
We'd like to provide the networking opportunities for new club officers as one of education programs in the Annual Conference. If you're interested in it, please save the date and register now!
2021/5/17(Mon.) 20:00-21:30
District 76 Annual Conference
Registration Form (Free)
【Purpose】
District 76 has introduced Toastmasters Leadership Institute (TLI) and provided various flexible Education Programs in addition to the conventional Club Officers Training programs.
However, it's a fact that we couldn't spend enough time on explaining the basic role to less- experienced club officers and giving opportunities to communicate with other club officers.
The purpose of this program is to support new club officers (2021-2022) to make a good start by providing the basic knowledge as an officer and the networking opportunities.
【Content】
Conduct the session for each Club Officer (President, VPE, VPM, VPPR, Secretary, Treasurer, SAA).
Explaining the basic role of each Club Officer
Group discussion by using Breakout rooms.
Presentation about what the club did for achieving club excellence
Announcement from Club Growth Director
Late Membership Renewal
It's never too late to renew your membership
Late renewals will be accepted anytime, although your access to Base Camp will be suspended until your payment is received by HQ. If you have any questions or concerns regarding membership and club activities, please do not hesitate to speak with one of the club officers.
Request to club officers
In our district, the number of late membership renewals has been as high as 300 in recent renewal periods. (At the April renewal in last year, the number exceeded 560!) So, please follow up unpaid members, and hear their voices about club activities, which may provide the club with great opportunity to improve and grow.
100 % Member Retention Recognitions
Thanks to the hard works of club treasurers, 219 out of 224 clubs are kept in good standing. My hearty congratulations to you all!
Membership retention is so important especially in the challenging current situation to recruit new members. The clubs listed below have achieved 100 % retention by March 31. More clubs may be added on April 13 when the final report will be published. Let's celebrate their achievements!
Golden March Award Results
Program Dates: February 1 – March 31
Recognition for the clubs that added three new, dual or reinstated members with a join date between February 1 and March 31. The following seven clubs have achieved the goal. Congratulations!
+5 Membership Campaign
Program Dates: July 1, 2020 – April 30, 2021
Lists of all winners are here.
+5 AWARD (Winners from March 19 to 31)
This award is presented to the clubs that achieved net growth of five members since July 1.
E 56  Odawara Toastmasters Club
Membership growth from 14 to 19 Congratulations!
No.1 Growth Master Award (Interim report as of March 31)
This award is the highlight of this year's district membership building awards. In each class the top 10 clubs in highest membership net growth in a period from July 1st, 2020 to April 30th, 2021 will be recognized.
As the program closing date is only one month away, let me present you the current ranking, which may change largely depending on the retention rate at April renewal and intensive efforts of adding new members. All clubs still have a chance to win!
Class 1 (for clubs of 13 membership base and over)
Class 2 (for small clubs of under 13 membership base)
Announcement from Administration Manager
Launch of District 76 Officer Election Webpage
Receive Email Announcements from District 76
District 76 official announcements to Club Presidents and VPEs such as this "District 76 Times" are made through the mailing list, but some of these announcements seem to be irregularly or even always forwarded to the spambox in email clients.
Here I briefly introduce some tips to receive the emails from District 76 correctly. We note that for members other than club Presidents and VPEs, the tips are applicable to any other email announcement.
*This article is for your convenience. Please note that we do not provide technical support.
1. Unmark the spam
Open a spam-judged email in the spambox and make a report of "not a spam" on the email. The reported email will be automatically moved from the spambox to the inbox.
2. Receive emails from D76 correctly in future
The below methods (1) and (2) can make the emails from District 76 forwarded into the inbox correctly in future. If use a smartphone, for (2), you have to login to the Gmail through not the Gmail APP but the mobile browser and enable the Desktop view.
(1) Add the email address of D76 to your address book (easy)
Add District 76-related addresses to the address book. For example, add the District 76 Presidents/VPEs mailing address to your contact lists of Gmail (Google).
(2) Create the filter for D76 (recommended)
Open the email in the inbox (see 1. above) and set up filtering.
Confirm that the District 76 mailing address is filled in on the "From:" item, and choose "Create Filter".
Check the box of "Never send it to Spam" and choose "Create filter".
Announcement from Public Relations Manager
Spring Gala on Saturday, April 24
Toastmasters District 76 will hold an online Spring Gala from 6 pm to 9 pm on Saturday, April 24.
The Gala will showcase the talents of our own Toastmasters,
| | |
| --- | --- |
| Funny Speech | Reiko Masui |
| Rakugo | Kimochi Honno |
| Magic Show | Peter Fujiyama |
| Juggling Show | Yoshiya Terai |
| Music Performance (Band) | Rock Music TMC |
| Music Performance | Taishi Oda |
| Music Performance (Chinese Violin) | Taeko Kondo |
| DJ | Yuki Matsuda |
Sign up here to attend,
Watch the promo video here,
YouTube Interview Series
Check out the latest interview video with former District Director Sumiko Futana, who tells us about her experience teaching junior high-school kids in the U.K., mentoring an Indian Japanese-language club and why she joined Toastmasters!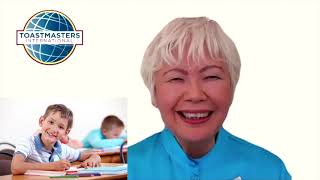 Sumiko Futana Toastmasters Interview
Yusuke Ohashi Interview in NHK's Contemporary Business English Magazine
District Director Yusuke Ohashi, is featured in the Spring edition of NHK's Contemporary Business English magazine discussing how Toastmasters provides people with a practical environment to learn English business presentation and persuasion skills in a friendly atmosphere.
The magazine is in Japanese and authored by Satoshi Sugita, the long-running presenter of the NHK Radio English Course, is published by NHK Publications Inc. Check it out here.
Announcement from Global Liaison Team
TMC International World Cafe
Dear Fellow TMC members,
We are pleased to advise that the Global Liaison Team (GL) is organizing a World Cafe II. We welcome participation by TMC members from Japan and abroad.
Please find below more information about the World Cafe;
【Date & Time】Saturday, 8 May 2021, JST 19:00-21:00
【Theme】The power of the words 言葉のチカラ
【How will it work?】The participants will be split into small groups and think about the power of the words by discussing three questions prepared around the theme.
【Inspiration talk】TM Nakagawa, a member of GL Team, will share his experience using the speech of Ms. Greta Thunberg, the environmental activist.
【Language】English
【Eligible participants】TMC members and those who are interested in TMC
【Online communication system】Zoom
【Inquries】tmcglt@gmail.com
We will send the URL to the participants on or around the three days prior to the event.
We look forward to meeting you at the World Cafe!
Announcements from Integrated Advertising Manager
Twitter Campaign (Naka-no-hito; Social media manager) 6th Period Results
Application Period:2/21~3/20 Measurement Period:2/21~3/31
We have received submissions from many clubs during the above application period. We are pleased to announce the top three contributors.
The following prizes will be awarded to the top three contributors' clubs (designated clubs at the time of submission).
Prize: $10.00 Gift Certificate to be used on Toastmasters International's website.
We will contact them individually for shipping method and timing.
The winner has been selected based on the number of impressions per tweet (how many people see it), not the number of "likes" or "retweets".
The number of engagements(エンゲージメント総数) increases with the frequency with which a posted image or link is clicked on. For this reason, posts with images and links tend to be higher, so we have chosen to rank them based on the number of impressions.
Multiple entries by the same clubs and posts by the digital marketing team are excluded.
★Results★
★[The first place] Shin-Osaka Leaders Toastmasters Club Impressions: 1,523
★[The second place] Nishinomiya Toastmasters Club Impressions: 839
★[The third place] Shimonoseki Toastmasters Club Impressions: 356
★Other Popular Tweets
The following tweets also got high impressions. We hope that you will use it as a reference for future applications.
Please fill out the form below to apply.
Twitter Campaign Application Form
* Login to Google account is required.
【Applcation Periods】
1st period:9/28~10/20
2nd period:10/21~11/20
3rd period:11/21~12/20
4th period:12/21~1/20
5th period:1/21~2/20
6th period:2/21~3/20
7th period:3/21~4/20
The results will be announced in the newsletter distributed by District76 of the following month.
(From Editor)
The next volume will be issued on April 20, 2021.
Hirohiko Kashiwagi, Administration Manager, 2020-2021