Vol. 14 (March 8, 2021)
Official YouTube Channel ★
Here
★
Announcements from Program Quality Director
Greeting
Last week I visited an Area Level Speech Contest, which was very well prepared and I was impressed with the quality.
Though we got used to the online speech contests, I reaffirmed the importance of the preparation. Let's review the contest rule book, guidelines, prepare carefully, and make your speech contests wonderful and enjoyable!
The purpose of Speech Contest
"Speech contests are an important part of the Toastmasters educational program. They provide an opportunity for Toastmasters to gain speaking experience, as well as an opportunity for other Toastmasters to learn by observing proficient speakers" (Quoted from Speech Contest Rulebook July1,2020To June 30, 2021)
Online Speech Contest
The related information is on D76 Website mainly in Japanese, and you can download the English files on Toastmasters International Website directly.
Contest Management 2020-2021
(District 76 Webpage)
The contest information is as follows. Please visit other Divisions and Areas, and enjoy and learn from others.
| | | |
| --- | --- | --- |
| Division, Area | Date | Registration |
| Division D | 2021/ 3/14 (Sun) | Form |
| Area 61 | 2021/ 3/14 (Sun) | Form |
| Area 62 | 2021/ 3/21(Sun) | Form |
| Area 63 | 2021/ 3/13 (Sat) | Form |
| Area 72 | 2021/ 3/14 (Sun) | Form |
| Area 73 | 2021/ 3/ 7(Sun) | Form |
If you want to promote your contests on the District 76 website, please inform Division Directors or me (naoki.yoshino@toastmasters-japan.org).
Whole contest schedule is listed below.
Free Pathways Path(by March, 2021)
Toastmasters International announced that as a token of our appreciation during this difficult time, any Toastmaster who renewed their membership for the October renewal period by December 31, 2020 will automatically receive a free Pathways path! Please visit your Toastmasters profile, click the "Choose A Path" button, and follow the normal path selection process to redeem your free path before March 31, 2021.
The deadline is coming soon!
However, only renewed members are eligible and reinstating members who are just joining Toastmasters again after having a break in membership are not eligible. The previous answer in FAQ was changed.
If you expected a free path and reinstated your membership, please inform me. Though I don't think Toastmasters International will change the policy, I'd like to understand the current situation because I don't want anyone to have a negative impression to Toastmasters due to this problem. Thank you for your understanding.
Announcements from Club Growth Director
Membership Renewals by April 1st (Reminder)
Please don't be late!
Have you already paid your membership dues for the next renewal period (April to September)? If not, please don't forget to do so as soon as you can. Your club needs to submit all payments to the HQ on or before April 1st.
The minimum requirement for a club to remain in good standing is eight members (at least three of whom must be renewing members).
Clubs that are not in good standing are not eligible to send contestant to speech contests. Read a letter from TI (Membership Renewals Announcement February 1 2021).
100 % Member Retention Recognitions
An average of approximately seven hundred members discontinued their club membership at each renewal in last five years, which exceeds six hundred forty of new members joined between July and January in this term. For the many clubs who are struggling in recruiting new members in a midst of COVID-19 pandemic, the best way to protect their membership strength is to keep retention rate high.
District 76 will recognize the clubs and areas that have achieved 100 % member retention by April 1st.
Article on Toastmasters in NHK English Textbook by Sugita Satoshi
Do you know Mr. Satoshi Sugita famous for his long run NHK radio program "Practical Business English/実践ビジネス英語"? His new book will carry a six page interview with our District Director Yusuke Ohashi. It will be published on March 13th. Don't miss it!
Buildup Membership in March
Everybody is talking about speech contest in March, but it's also a good time for membership building. Speech contests are wonderful opportunities to invite guests. Please leverage the following programs to encourage recruitments of new members joining in February and March.
Membership Building Program for Clubs
Talk Up Toastmasters (Program Dates: February 1 – March 31)
District 76 Membership Building Program for Clubs
Golden March Award (Program Dates: February 1 – March 31)
Add three new, dual or reinstated members with a join date between February 1 and March 31, and you'll receive a special gift (TBA).
The following two clubs have already achieved the goal. Congratulations!
| | | | | |
| --- | --- | --- | --- | --- |
| E | 51 | 4564980 | Yokohama Ni Hao Toastmasters Club | 3 new members |
| H | 82 | 1577356 | Oki Orators | 3 new members |
OPEN HOUSE in March
Open House project is now extended to March 31st.
OPEN HOUSE Registration Form
(Clubs are now allowed to submit it directly)
New and second entries are invited. Clubs don't need to provide a guest application form any longer. Date, time, and venue information are sufficient to register a meeting.
Since we advertise a list of open house meetings on SNS I strongly recommend your early registration to maximize the number of participants.
Open House website
Resources
Presentation template (PowerPoint)
New Club Charter Fee Waver Extended to June 30th
Announcements from Public Relations Manager
Spring Gala on April 24
Toastmasters District 76 will hold an online Spring Gala from 6 pm to 9 pm on Saturday, April 24.
The Gala will showcase the talents of our own Toastmasters – including comedy, music and magic. There will be a quiz with prizes and we will also celebrate the achievements of Toastmasters with a Hall of Fame event.
There will be performances from Peter Fujiyama, Reiko Masui and Rock Music Toastmasters Club, among others, with DJ Yuki Matsuda.
Sign up details will follow later this month.
YouTube Interview Series
Check out the latest interview video with former District Director Kyoko Kitamura, who tells us about her surprise to hear people speak Welsh, not English, at club officer training while a member of Toastmasters in the U.K. and how she presided over the longest DCM in 18 years! (This interview is our first in Japanese)
That helped spur him to compete and led him all the way to the International Speech semifinals in Phoenix, Arizona, where his jokes didn't go as planned. See more here,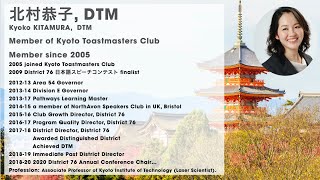 Kyoko Kitamura Toastmasters Interview
Receive Email Announcements from District 76 for Sure
District 76 official announcements to Club Presidents and VPEs such as this "District 76 Times" are made through the mailing list, but some of these announcements irregularly or even always forwarded to the spambox in email clients.
Here I briefly introduce some tips to receive the emails from District 76 for sure. We note that for members other than club Presidents and VPEs, the tips are applicable to any other email announcement.
*This article is for your convenience. Please note that we do not provide technical support.
1. Unmark the spam
Open a spam-judged email in the spambox and make a report of "not a spam" on the email. The reported email will be automatically moved from the spambox to the inbox.
2A. Add the email address to your address book (easy)
Add District 76-related addresses to the address book. For example, add the District 76 Presidents/VPEs mailing address to your contact lists of Gmail (Google).
2B. Create filter (recommended)
Open the email in the inbox (see 1.) and set up filtering.
Confirm that the District 76 mailing address is filled in on the "From:" item, and choose "Create Filter".
Check the box of "Never send it to Spam" and choose "Create filter".
Zoom Registration from April to June
I would like to say thank you very much for your energetic activity despite threat and influence of coronavirus.
We will accept the applications of Zoom account of Distrist76 from April to June 2021.
deadline: Saturday, March 20th, 2021 by 11:59pm
(1) Registration Form for D76 Zoom account (e-mail address)
If your club fall into either of the below two cases, please fill out the "(1) Registration Form" below. Then, please fill out the (2) Date Application Form below.
Your club will use the District 76 Zoom account for the first time.
Your club wants to change your account in the District 76 Zoom group.
(2) Application Form for the Date of Use
Please fill out desired dates by the following Date Application Form.
※You can apply the use of Zoom account up to for six times. If your club will use Zoom more frequently, please consider using free account or buying licensed account on your club's expense, etc..
— We would like to ask your club to use free accounts, purchase licensed account, or share them among multiple clubs or within Area as possible, since the Zoom license D76 holds is limited in number.
Twitter Campaign 5th Period Results
Twitter Campaign "Let's Become a Naka-no-hito (Social media manager)! 5th Period Results
We have received submissions from many clubs during the 5th application period (Application Period:1/21~2/20 Measurement Period:1/21~2/28).
We are pleased to announce the top three contributors.
The following prizes will be awarded to the top three contributors' clubs (designated clubs at the time of submission).
★Prize: $10.00 Gift Certificate to be used on Toastmasters International's website.
We will contact them individually for shipping method and timing.
The winner has been selected based on the number of impressions per tweet (how many people see it), not the number of "likes" or "retweets".
The number of engagements(エンゲージメント総数) increases with the frequency with which a posted image or link is clicked on. For this reason, posts with images and links tend to be higher, so we have chosen to rank them based on the number of impressions.
Multiple entries by the same clubs and posts by the digital marketing team are excluded.
★Results★
★[The first place] Shin-Osaka Leaders Toastmasters Club, Impressions: 1,415
★[The second place] Storytelling Toastmasters Club, Impressions: 875
★[The third place] Osaka Sunshine Toastmasters Club, Impressions: 739
★[Other Popular Tweets]
The following tweets also got high impressions. We hope that you will use it as a reference for future applications.
Please submit your tweet using this application form:
* Login to Google account is required.
[Lists of Application Periods]
1st period:9/28~10/20
2nd period:10/21~11/20
3rd period:11/21~12/20
4th period:12/21~1/20
5th period:1/21~2/20
6th period:2/21~3/20
7th period:3/21~4/20
The results will be announced in the newsletter distributed by District76 of the following month.
(From Editor)
The next volume will be issued on March 20, 2021.
Hirohiko Kashiwagi, Administration Manager, 2020-2021